The Names Society of Southern Africa is a society dedicated to the study of names, naming, and naming systems. The general areas of interest of members of the society cover personal names of all sorts (given names, family names, nicknames, etc. all known under the term 'anthroponyms'), geographical names (also known as place names or toponyms), the use of names in literature ('literary onomastics' - 'onomastics' is the term used for the study of proper names. Scholars who study proper names are known as 'onomasticians'), the names of commercial products (brand names), and the names of animals, ships, buildings, aeroplanes, in fact anything that can carry a proper name.

Members of the society come from a wide variety of disciplines: linguistics, historians, literature experts, geographers, to mention just a few. Some are teachers, others librarians or archivists, others civil servants and politicians, but all share an interest in names and naming.
NSSA Newsletters
The latest newsletters can be downloaded here:

20th NSSA International Conference
The Names Society of Southern Africa (NSSA), in collaboration with the MER Mathivha Centre of African Languages, Arts and Culture at the University of Venda in Thohoyandou, invites onomasticians all over the world to submit abstracts for the 2018 bi-annual international congress.

Date: 18-20 September 2018
Venue: Bolivia Lodge, Polokwane, South Africa

Theme: Onomastics versus traditions of analytic philosophy and logic

Read the first call...


Also see the following new publication: Of the same breath - Indigenous Animal and Place Names by Lucie A. Möller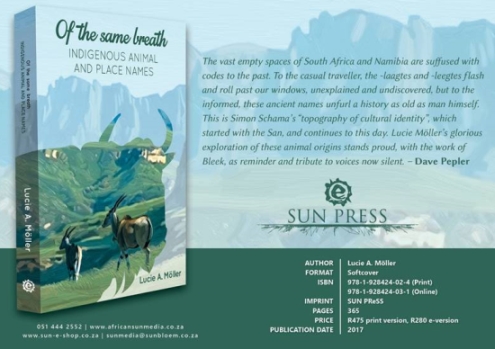 Print: http://www.africansunmedia.co.za/Sun-e-Shop/tabid/78/ProductId/507/Default.aspx
PDF: https://africansunmedia.snapplify.com/product/9781928424031